EAC Certification for the food industry – Page to be updated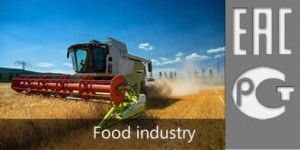 The food industry usually need to be certified according to technical regulation TR CU, the outcome of the certification process is generally an EAC Declaration of conformity.
EAC Technical regulation applicable to the food industry
TR CU 005/2011 on the safety of the packaging;
TR CU 007/2011 on product safety for children and teenagers;
TR CU 015/2011 on the safety of grain;
TR CU 021/2011 on food safety;
TR CU 022/2011 on the rules of marking on food products;
TR CU 023/2011 for fruit juices and products derived from fruits and vegetables;
TR CU 024/2011 for products obtained from animal and vegetable fats and oils;
TR CU 027/2012 on dietetic foods, including dietary foods for special medical purposes;
TR CU 029/2012 on the safety of food additives, flavorings and processing aids;
TR CU 033/2013 on the safety of milk and dairy products;
TR CU 034/2013 on the safety of meat and meat products;
TR CU 031/2012 on the safety of agricultural and forestry tractors and their trailers.
TR CU 004/2011 on the safety of low voltage equipment;
TR CU 010/2011 on the safety of machinery and equipment;
TR CU 012/2011 on the safety of equipment for potentially explosive atmospheres;
TR CU 020/2011 on electromagnetic compatibility of technical devices;
This post is also available in Deutsch, Español , Français and italiano.