Gost R fire safety technical regulation  – last update 15.04.2016
The fire safety certificate for Russia is one of the certifications issued in accordance with the Russian Gost technical regulations as opposed to most of the documents issued in accordance with regulations TR CU Customs Union and marking EAC.
Check also:
Gost R fire safety : application fields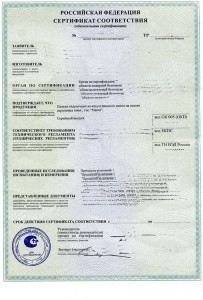 The fields of application of the Gost R fire safety certificate shall be as those listed below and they are described in detail in the Decree N 320 of 8 July 2002 of the Government of the Russian Federation. The certificate of fire-proofing will then be required at customs control on entry to the country, and within the the country directly, at the installation site or the construction site. The certificate of fire-proofing does not replace the Gost R certificate but is adjoined to it in cases established by legislation.
Areas of Application of the Gost R certification for fire safe products
• Flammable construction materials such as carpet, wallpaper, flooring, doors, etc.
• Signalization of fire prevention and data transmission cables
• Materials and refractory coating, fire protection doors
• Housing hose antifire
• Fire extinguishers
• Safety air valves of fire
• Cables from electrical current of 220 V
• Domestic Refrigerators
• Household appliances operated with LPG or CNG
• Industrial products related to burning the gas burners, heat generators and so on.
Ask our specialists for an offer
Timing and Costs of the certificate of Gost R fire safety technical regulation
Issuing time from the delivery of all the required documents: 2 to 8 weeks
Total cost: from 1000 Euro
Validity: single shipment, up to 5 years
Costs may vary depending on the time validity request, the product to be certified and the number of product variants, or different products if considered similar.