Mandatory Gost R according to technical regulations – last update 15.04.2016
Admission of the Russian Federation to the international community and the adjustment of federal standards to those prescribed by the European Union and the WTO have resulted in a progressive inadequacy of the standard GOST R system, which until now has been the backbone of certification of production. Technical Regulations is a legal document, which defines legally binding requirements. The Technical Regulation document lays down guidelines for the producer, the exporter, the agent or the distributor in relation to a wide range of types of productions both on the territory of the Russian Federation and outside it. The need for this relatively new document comes from the no-longer-current design of the GOST R standards and from the difficulty of harmonizing them with international norms.
Gost R documents:
Gost according to technical regulations: international system armonization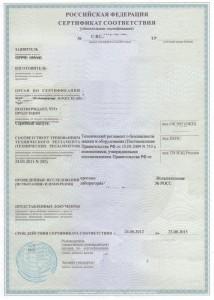 All technical regulations must comply with the federal law (No.184 of 27.12.2002). The second chapter of that Act describes the objectives, applications and limitations of the contents of any technical regulations issued. Besides this, the law prescribes the process of creation, issuance and adoption of any technical regulations, as well as the possible modifications and its elimination. It is notable that, the development of a technical regulation can be carried out by different parties. A resolution of the Government of the Russian Federation or, alternatively, a federal law are the acts of acceptance of any technical regulation. Once entered into force, the certification of conformity of production covered by technical regulations, must necessarily be carried out in compliance with the requirements outlined. For any technical regulations, the law provides a special chapter dedicated to the certificate of conformity.
Ask our specialists for an estimate
Time and cost to obtain a Gost R certificate of conformity according to Technical Regulation (TR)
From the moment of delivery of all required application documents, the time needed for issuing a mandatory Gost R certificate of conformity is 1-2 days
The total cost (including VAT) of a mandatory Gost R certificate of conformity is in the range:: €600-2000
Costs vary depending on the time validity of the request, the product to be certified, and the number of product variants, or of different products if they are considered to be similar.